Joker Card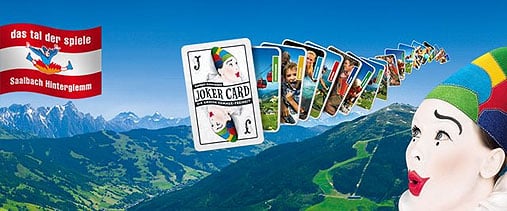 The Saalbach Hinterglemm JOKER CARD is the trump for a perfect Summer holiday and provides the opportunity for free admission for many attractions. JOKER CARDS are being handed out between the middle of May until the end of October. They can only be used during this period.
 
You cannot buy the Saalbach Hinterglemm JOKER CARD! It is included and valid as long as you stay in one of the JOKER CARD partner hotels (Important notice: Not all, only those marked with the JOKER CARD logo are partners!).
 
The following benefits are included in the Saalbach Hinterglemm JOKER CARD:
* except extra tours
---
JOKER CARD Bonuspartner
With the JOKER CARD you have all the trumps in your hands, but not only in Saalbach Hinterglemm, many attractions in the surrounding area offer reductions for JOKER CARD holders. Just show your JOKER CARD and save money! Find all relevant info below.